Steve Johannessen
Artist, Composer, Singer, Web Designer
"One of the sincerest pleasures I've had in fifty-five years in the music profession was to be able to work alongside Steve Johannessen. His talent is outstanding, and he brings with him a spirit and enthusiasm that is inspirational. He is constantly exploring new and original art forms, and has a consuming interest in quality reflecting a serious attitude about his craft. Small wonder that his efforts gain the utmost respect from professionals at the highest level."
- Sammy Nestico - Arranger, Composer, Grammy Nominee, Music Director at the White House 1963-1968, Arranger for the Count Basie Orchestra
"Steve is a wonderful musician, singer, writer and visual artist with continuing breakthroughs in digital domains."
- Fred Mollin - Record Producer, Musical Arranger, Composer, former VP of A&R for Disney Music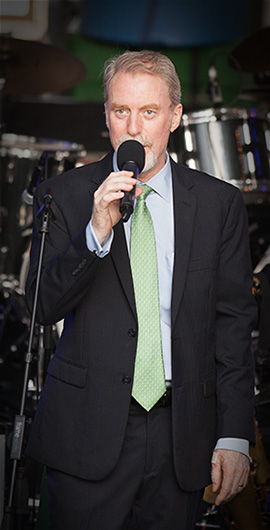 Steve has enjoyed a creative career spanning many disciplines in the music and technology industries working as a keyboard player, vocalist, synthesizer programmer, studio musician, producer, sound engineer, creative director, artist, user interface expert and web designer. He cut his teeth on jazz playing lead trombone in the high school jazz band performing big band arrangements by Miller, Dorsey, Ellington and Nestico. After graduating high school he spent some time in the Air Force in the 705th TASS, 216th EIS, and finally the 561st Air Force Band as 1st chair/lead trombone. After that, Steve worked at Arran Records in California during the day as a recording engineer behind the board producing and engineering various projects including recording local bands. At that time Steve was also performing in several rock and R&B bands touring the west coast.
Steve has always been tech savvy and a hands-on electronics enthusiast since his early years, playing with ham radio and designing transmitter circuits in the family garage. In 1975 Steve and his father, Maurice Johannessen (owner of Viking Skate Country in California), put their skills together to build the first "Roller Disco" anywhere. By incorporating a complete disco light show and big sound system into a brand new cutting edge skating rink they createded an entirely new experience for skaters that included live broadcasting from the rink sound booth on local top-40 radio station KRDG. Coming on the heels of the disco craze this concept was quickly replicated at skating rinks all over the country creating a huge trend. (Story can be found in New York Magazine). The sound and lighting system that Steve designed for that first project is still in operation today.
In 1982 Steve moved to Boston, MA to get an in-depth education in arranging and music synthesis at Berklee College of Music. There he completed four years of study in two years, earning his BA and graduating with honors. In 1984 Steve began performing in the Boston area with a very successful duo he formed with Tom Pittman called "Back To Back". Steve programmed all of the backing tracks for their live performances. They recorded an album of original music titled "This Is Real" that was released in spring 1987 receiving favorable reviews and airplay the summer of 1987. Together they performed for over five years throughout the New England area booking over 200 dates each year.
In 1989 Steve began contracting with Kurzweil Music Systems, a major keyboard/synthesizer manufacturer started by the legendary Ray Kurzweil, to write and program demonstration music and sounds for their professional synthesizers, digital samplers, and their home products lines. In December 1989 he was hired by Kurzweil to be Director of Artist Relations and Customer Support. A month later he moved to Los Angeles where he spent the next six-and-a-half years working with artists all around the world. His first project at Kurzweil was to build and operate a six-camera video production suite to be used in product demonstrations and video user guides. While at Kurzweil he built a huge artist endorsement roster, managed the tech support department, and managed their US trade shows. Because he was involved in the sound designs for all of the professional products, he also toured the country and overseas as a clinician demonstrating and performing on their professional keyboard products. When not representing Kurzweil he found time to work on a wide variety of projects spanning writing for TV and movies, performing, studio work and programming synthesizers for other artists.
It was in early 1993 when Steve began experimenting with early visual music ideas and images using the computer, synthesizers and video animation/motion graphics. Two years later his exhibit "Music Of The Spheres" was recognized by the Gorbachev Foundation, and Steve was selected as Digital Fine Artist to exhibit at the 1995 State Of The World Forum in San Francisco. The following year he created his first visual music composition titled "Low Tide" as an experiment. His next visual music composition "Novus Galacticus" used surreal 3D images, geometric shapes and fractals juxtaposed with a "sonic landscape" to create an otherworldly experience. Since then Steve has created dozens of visual music pieces, all different. He continues to explore the boundaries of this exciting new art form. Click Here to see examples
In late 1996 Steve left Kurzweil to join the dot-com boom and explore new creative opportunities. He started his business Virtuus Media to create websites and various multimedia projects for multiple clients in California and Oregon. In 1999 he was contracted by CNA Trust to design user interfaces for their intranet and web projects. He was subsequently hired full-time in 2000 as Web Creative Director. In his five years there he worked on a number of large sites for financial service firms - AXA Advisors, Alliance Capital, SunAmerica, Franklin Templeton, New York Life, Bank Of Hawaii, Union Bank of California and more. His 2003 PlanStat branding initiative (Watch Video Presentation) was used to demonstrate and market their financial services products, as well as unifying multiple web apps under a common user interface with single-sign-on capabilities.
Steve escaped Southern California and moved to the beautiful Blue Ridge Mountains of North Carolina in the fall of 2005. Since then he has been very busy! In 2007 he had an extensive exhibit at the Bascom Center for Visual Arts showing his virtual reality canvases and his Visual Music videos. His marketing design company "Steven Johannessen Design" (est. 2006), and his software company "MemberSites" (est. 2010) take up his days. For his clients he is building websites, producing videos and other marketing/graphics projects. On most Friday and Saturday nights you will find Steve performing throughout the southeastern US as a "Classics" singer. Steve now resides in Cashiers, North Carolina at his mountaintop farm at 3525' elevation with his lovely wife Sally, nine rescue dogs and two rescue cats.
Listen To The
Music
DOWNLOAD MP3 MUSIC FILE
You can hear this example of the "Classic" sound of Steve Johannessen and his music. This example MP3, although recorded in the studio, is an example of the type of sound you will hear in live performances!
at your home

Want to have a memorable house party for friends and guests? Here's how!

Imagine you and your guests all relaxing after a wonderful meal and settling down by the fire to listen to some great music. A live performance can make your event that much more memorable!

at your event

When your event needs that special "Touch Of Class" then look no further!

This kind of music is wonderful at almost any kind of event including wedding rehearsal dinners, cocktail receptions, business events and more. Create an experience to remember!

at your club

Keep your regular customers coming back and attract new ones!

More than just any band, this timeless music evokes a feeling that's hard to reproduce with today's music. Schedule an appearance at your club and watch your customers come back for more!